Dice Questions is a fun way of getting students to practice question forming. This game requires two dice or you can use our interactive online classroom dice. In pairs, or as a class, students take turns rolling the dice. Each number on the die corresponds to a type of question – 'who', 'what, 'where', 'why' and 'have you ever'.
The second die or the second time the die is rolled shows how many points that student or team will get for asking a correct question.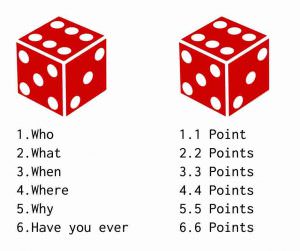 Activity time: 5 – 10 minutes
Level: Young learners, teens and adults  (A2 +)
Skills practiced: Speaking and question forming
Method
Put students in pairs, groups or play as a class.

Explain to students that they need to roll the dice twice (or use two dice). The first number tells them what question word they must use. The second is how many points they will receive for a correctly formed question.

Students take turn rolling the dice and forming questions. The team with the most number of points at the end are the winners.
More Speaking Activities
Questions for teens and adults based on topics – Here you will find a range of questions based on different topics. These activities are designed to be used with interactive whiteboards but can be used with any device.
FCE Speaking Activity – Speaking activity for intermediate  students
Magazine Personalities – Get students talking about their interests
Survivor – Students discuss what they would do in an extreme situation
Liar! – Liar is a simple no-prep speaking activity for teens and adults. Students describe an image while one student describes and image that they don't have.
Liar, Liar – This activity practice speaking and listening skills with teens and adults.
Picture Profiles –  a simple speaking activity that is a great way to practice describing people's physical appearance and personality.
---