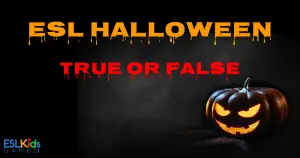 ESL Halloween True or False is a fun activity for teens and adults to practice vocabulary and encourage discussion on the topic of Halloween while learning some interesting facts about this holiday.
This activity requires no preparation. Below you will find a pre-prepared presentation with 9 true or false questions about Halloween. Pictures of vocabulary that may be difficult for students are included in the presentation to help students with understanding any vocabulary they may not know.
Maximise this activity by getting students speaking and discussing their opinions. As always, enjoy and have fun!
Level : Teens and adults (pre-intermediate and above)
Time: 15 – 20 minutes
Language Aims: Discussing, agreeing and disagreeing, learning Halloween vocabulary.
Materials: Powerpoint Presentation (below), projector in your classroom.
Procedure:
First, get students into groups of 2, 3 or 4 depending on the size of the class.

For each question, the teams must decide if the answer to the question is true or false. If they are correct they are awarded a point.

The team who gets the most correct answers wins the game.
More Halloween Activities
Check out our other Halloween activities for young leaners, teens and adults!
Trick or Treat – is a fun activity for young learners where they draw cards and get treats or tricks!
Zombie Apocalypse – is a fun speaking activity for teens where they discuss how they would survive the zombie apocalypse.
Halloween Family Fortunes – Ideal for teens and adults and even young learners to practice Halloween vocabulary.
Halloween Idioms – Ideal for teens and adults.