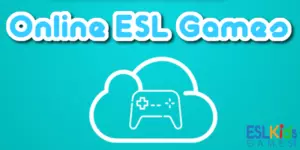 Below you will find a list of our online ESL games. We will have many more online games coming shortly, so make sure you check back often.
ESL Odd One Out – an online game that is a great way to practice vocabulary and speaking with young learners. This activity is great to help students practice for the Cambridge Movers exam.
ESL Vocabulary Fortunes – An online game for teens and adults that is a great way to practice vocabulary on a large number of topics.
ESL Bomb Game – Bomb is a simple scoring system that adds excitement to any game.
ESL Hangman – Hangman is a simple way to practice spelling and vocabulary recall with your students.
Describe the photo – A great way to practice speaking about photos for B1 (PET).
ESL Play Your Cards Right – A fun higher or lower game.
ESL Countdown – A great game to practice vocabulary and spelling.
ESL Writing Prompt Generator – A fun way to practice writing with young learners and even teens.
More online ESL games coming soon!
Follow us on social media and YouTube so you don't miss any of them!