This post looks at 3 ESL Valentine's Day Activities for teens and adults. These simple no-prep activities are a great way to get students talking and discussing their opinions on St. Valentine's day.
The first activity explains the origins of St. Valentine's Day while practicing students listening skills with a short video.
The second activity makes use of infographics to practice reading. Students read facts about Valentine's Day and discuss what they read with the class.
Lastly, you will find a number of speaking questions to extend the conversation with students.
Valentine's Day Explained
Activity Time:  10 mins +
Materials required: Each student needs a piece of paper and a pen.
Skills practiced: Listening, writing and speaking.
Level: Teens and adults. Lower Intermediate
Method
1. Show the class the video below and stop the video at around 0:51 seconds. Ask the students to answer the following question in pairs. Ask them to write their answer. (Show the video a second time if required.)
How did Valentines day start?
2. Ask the students the write down the following numbers. Tell them they are going to watch the video again. This time they must write down the significance of the numbers.
270 AD
496 AD
1415 AD
Late 1800's
35 Million
189 Million
3.
After you have checked their answers, ask them which facts they found most interesting and why. On the board write "
Love is …"
In their pairs, ask the students to finish the statement.Here are some quotes to give them some inspiration:
"Love is like a friendship caught on fire"  Bruce Lee

"Love is only a little foolishness with a lot of curiosity" George Bernard Shaw

"Love is an irresistible desire to irresistibly desired" Robert Frost

"Love is the flower you've got yo let grow" John Lennon 

"Love is like a red red rose" Robert Burns
Please contribute
Please send on your classes "love is.." creations to me either on twitter @eslkidgames, #eslloveis or via email where they will be featured with my classes' quotes to spread the love this Valentine's day. 
Valentines Day Facts
Activity Time:  10 mins +
Materials required: Printed infographic for each set of students
Skills practiced: Listening, writing and speaking.
Level: Teens and adults. Lower Intermediate
Method
1. Print the following infographics. One between two or three students. (Click the images to view the full infographic)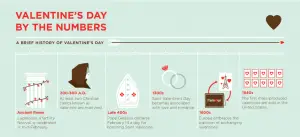 2. Give each group their own infographic.  Ask them to read the infographic and create a mini presentation on the top five most interesting facts they read on their infographic.
3. Each group tells the other groups the information that have read and the class discuss the information.
4. The whole class then picks the top five pieces of information discussed. If you have time you could encourage the class to develop their own infographic based on their top five facts.
Valentine's Day ESL Questions
Activity Time: 
 10 mins +
Materials required:
 a copy of the printable
Level: 
Teens and Adults all levels.
Printable: 
Download
 OR 
View 
Get the class talking with over 15 Valentine's Day questions.
Did you find this post useful? Please leave a comment and share this post with others. As always, enjoy and have fun!
Find more Ideas for teens and adults
here